Wonder Girls to reveal track list of 'Reboot'
# Entertainment
2015.07.29
View : 1367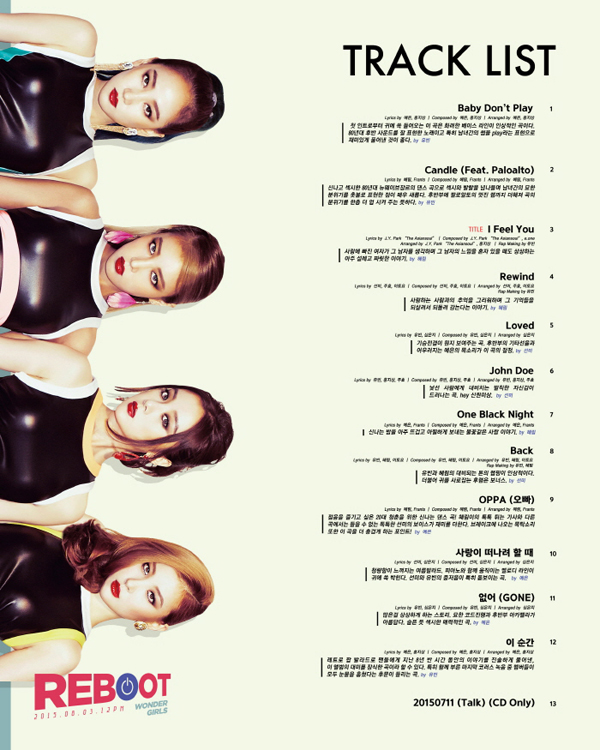 Wonder Girls has officially dropped their track list of 'Reboot' which each of the members participated in songwriting and composition.
On July 29, JYP Entertainment unveiled the group's track list of 'REBOOT' with album teaser images on its official SNS accounts. In the released teaser images, 4 members capture viewers attention with its swimsuit-like outfits with different instruments. Returning as a band, 4 members are showing off their sexy and chic charms with red lips and intense make-ups.
Apart from the title track 'I Feel You,' other 11 tracks including 'Baby Don't Play', 'Candle', 'Rewind', 'Loved', 'John Doe', 'One Black Night', 'Back', 'OPPA', 'GONE' and more have been written and composed partly by the members. This album includes various genre tracks such as retro pop in 80's, retro dance, slow jam and more. Also, special track #13 is a talk track which includes members talking voices. Only available in CDs.
Meanwhile, Wonder Girls will be officially returning to the music scene with the 3rd studio album on August 3. The group is holding a showcase at 8 pm on the same day to meet their long-awaited fans.