Mamamoo to release an acapella version of 'Um Oh Ah Yeh'
# Entertainment
2015.08.05
View : 1808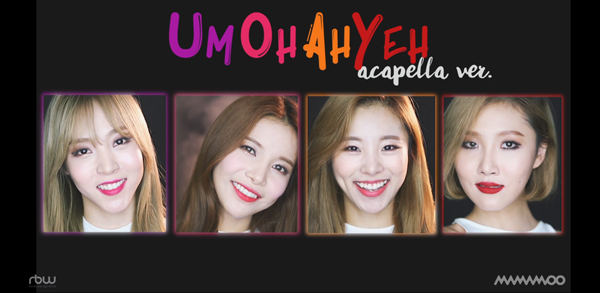 MAMAOO prepared a surprise gift for their fans ending their album promotion of the 2nd mini album 'Um Oh Ah Yeh'.
On August 4, MAMAMOO released a video of 'Um Oh Ah Yeh's acapella version on Naver's TV CAST. Starting with each member's split screens, four members sang their latest track 'Um Oh Ah Yeh' perfectly with no background music in the video. Their perfect harmony of vocalists and rappers stood out throughout the whole video proving their musical talent once again.
The group, who recently ended its activity prepared this special video to show gratitude to their fans support. MAMAMOO, who are also huge fans of the renowned acapella group Pentatonix stated that they have been inspired by them when they were making this video.
Meanwhile, MAMAMOO is scheduled to hold its first fan meeting '1st Moo Party' on August 23.