ZE:A's sub-unit ZEA: J to release 'Marry Me' in China
# Entertainment
2015.08.06
View : 2701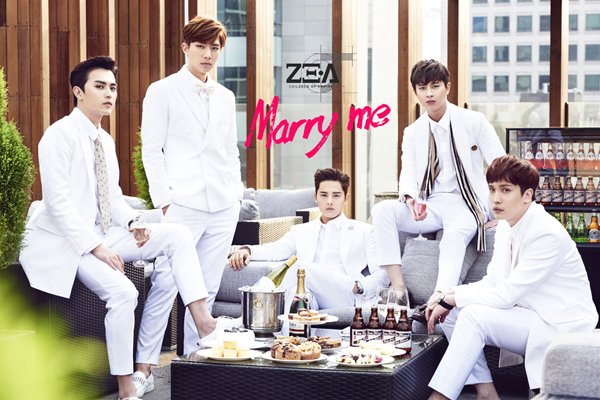 ZE:A's sub-unit ZEA: J is preparing to make a debut in China releasing its first Chinese single album 'Marry Me'.
According to the group's management agency Star Empire Entertainment, ZEA: J, made up of ZE:A members Kevin, Kim Taeheon, Jung Heecheol, Ha Minwoo, and Kim Dongjun, is releasing its first single album in Chinese version and kicking off its album promotion in China.
The group's new single is set to be released on August 7 at 11 Chinese major web portals including QQ Music, Baidu Music, Sina Music and more. Also, its full version of music video will be unveiled.
ZEA: J's first Chinese single album title track "Marry Me" portrays a man who is proposing to his girl friend to be with him for the rest of his life. Member Dongjun participated in song writing.
A rep from the agency mentioned, "We are focusing on to show bright image to Chinese fans through this album promotion. We look forward to seeing ZEA: J's activities in various fields to meet local fans."
Meanwhile, ZE:A's sub-unit ZEA: J will be holding a solo fan meeting on August 20 at Hainan, China.
[Photo by Star Empire Entertainment]